A350 LF3 Weldneck Flensa
Bangdong Supply ASTM A182 304H Flensa Terkutuk , ASTM A182 Flanges 316L Buta, ASTM A182 904L Mengurangi Flensa. Slip-on Flanges, Blind Flanges, Fleldes Neck Flang, Socketweld Flensa, Flensa Terkunci, Flensa Mengurangi. Kami menyediakan Flensa dalam jangkauan yang beragam pada pengiriman yang lebih cepat dan harga pasar yang terjangkau. Kami menawarkan flensa baja eksekusi berkualitas tinggi dan tak tertandingi untuk berbagai kebutuhan pelanggan kami. Flens kami memiliki kekuatan yang tinggi dan dapat menahan kondisi yang memalukan. Jangkauan jangkauan kami yang luas menggabungkan flens leher las, flensa las soket, flensa las baja, flensa leher las baja dan banyak lagi.
Bangdong adalah salah satu produsen dan eksportir Baja Flensa terkemuka . Tim ahli dan terampil kami mengkhususkan diri dalam pembuatan berbagai Flensa Baja tahan lama yang tersedia dengan harga yang wajar. Flensa baja yang diproduksi di unit kami menggunakan baja berkualitas superior. Flensa Baja sangat populer untuk ketahanan karat dan ketahanannya. Flensa baja untuk klien dibuat tersedia dalam spesifikasi reguler dan custom-made. Oleh karena itu kami adalah salah satu yang sangat dicari produsen Steel Flensa di India.
»

Features

»

Styles Available




Flat face

Raised face

Tongue

Groove or ring joint
» ASME / ANSI B16.5:
PENGELASAN FLANGE, FLASH SLIP-ON, FLANGE BLIND, FLASH BLIND FLASH TINGGI, SOCKET WELD FLANGE, FLANGE LAPJOINT, FLANGE THREADED, RING TYPE JOINT FLANGE.
Kelas Tekanan: 150, 300, 400, 600, 900, 1500, 2500
» ASME / ANSI B16.47:
PENGELASAN ALIRAN, BLIND FLANGE. (SERI A & B)
Kelas Tekanan: 75, 150, 300, 400, 600, 900
» ASME / ANSI B16.36:
(ORIFICE FLANGES) WELDING LEHER FLANGE, FLANGE SLIPON, FLANGE YANG DAPAT DIUBAH.
Kelas Tekanan: 300, 400, 600, 900, 1500, 2500
» ASME / ANSI B16.36:
(ORIFICE FLANGES) WELDING LEHER FLANGE, FLANGE SLIPON, FLANGE YANG DAPAT DIUBAH.
Kelas Tekanan: 300, 400, 600, 900, 1500, 2500
» ASTM / ANSI B16.48 :( Gambar-8 kosong):

Kelas Tekanan: 150, 300, 400, 600, 900,1500, 2500
» MSS SP44:
PENGELASAN ALIRAN, BLIND FLANGE.
Kelas Tekanan: 300, 400, 600, 900
» API 6A:
ALIRAN LISTRIK, FLANGE THREAD, BLIND FLANGE.
Tekanan: 2000Psi, 3000Psi, 5000Psi, 10000Psi, 15000Psi, 20000Psi, 25000Psi
» Bahan:
ASTM A105; ASTM A350, A694 F42 / F46 / F52 / F60 / F65
ASTM A182 F304 / 304L, F316 / 316L, F321, F310,
ASTM A 182 F51 / F53 / F55
» Ukuran: 1/2" -48 "
WELDING NECK FLANGE

Weld neck flanges are drilled (machined) with the wall thickness of the flange having the same dimensions of the matching pipe. The lighter the pipe is, the larger the bore, conversely, the heavier the pipe, the small the bore. Our range weld neck flanges, welding neck flanges are normally used for high-pressure, cold or hot temperature. We specialize these flanges in different dimensional and material specifications based upon the requirements of the clients.

SLIP-ON FLANGE

We offer the best quality

Slip on Flanges

which are durable and come at affordable rates. Customer satisfaction is of prime importance at our company and so the supreme quality raw material is used for manufacturing the Slip on Flanges.

Slip on Flanges

is useful in less strict requirements in terms of length of pipe section. Slip on Flanges is available in varied dimension and competitively priced keeping the market standards in view.

BLIND FLANGE

We provide an extensive range of high quality

Blind Flanges.

These products don`t have any bore, and they are commonly used to

block/close the end of the piping system

. Manufactured with the latest advanced technologies and high quality raw materials, these products are highly durable and resistant to corrosion. We offer product customization and they are available at competitive prices.

The reduction can be either threaded or welded based upon the requirements of the client.

SOCKET WELD FLANGE

Socket weld flange is a device that is welded to the end of pipe so that the pipe can be bolted to another pipe with a similar flange. Stainless steel socket weld flanges enable a pipe to be disconnected and reconnected with ease. Available in a spectrum of shape and sizes, our forged light weight steel socket weld flanges are manufactured using superior grade material such as stainless steel socket weld flanges, carbon steel socket weld flanges and known for their durability and performance.

LAP JOINT FLANGE

LAP JOINT FLANGES are primarily employed with lap joint stubs, the combined initial cost of the two items being approximately one-third higher than that of comparable welding neck flanges. Their pressure-holding ability is little, if any, better than that of slip-on flanges and the fatigue life of the assembly is only one-tenth that of welding neck flanges. The chief use of lap joint flanges in carbon or low alloy steel piping systems is in services necessitating frequent dismantling for inspection and cleaning and where the ability to swivel flanges and to align bolt holes materially simplifies the erection of large diameter or unusually stiff piping. Their use at points where severe bending stress occurs should be avoided.

THREADED FLANGE

A Threaded Flange is usually confined to a special application. The main benefit of a Threaded Flange is that it can be assembled without welding which makes it perfect for extremely high pressure services. Threaded Flange is unsuited for conditions involving temperature or bending stresses of any magnitude. Particularly under cyclic conditions where leakage through the threads may occur in relatively few cycles of heating or stress.

RING TYPE JOINT FLANGE

Our range of stainless steel ring joint flanges is highly appreciated for strength, durability, reliability, corrosion resistance and close tolerances. These stainless steel ring joint flanges conform to various Indian and international quality standards. Used in a number of industries, these stainless steel ring joint flanges are supplied in various dimensional specifications.

ORIFICE FLANGE

Orifice flanges are used instead of the standard pipe flanges when orifice plate or flow nozzle is used. In other words, orifice flanges are used with orifice meters. The basic purpose for this is to measuring the flow rate of either gases or liquids in the respective pipeline. These flanges are used in various industrial applications and are available in various sizes and materials. All orifice flange units are supplied with the plate, pressure connection holes, and jack screws.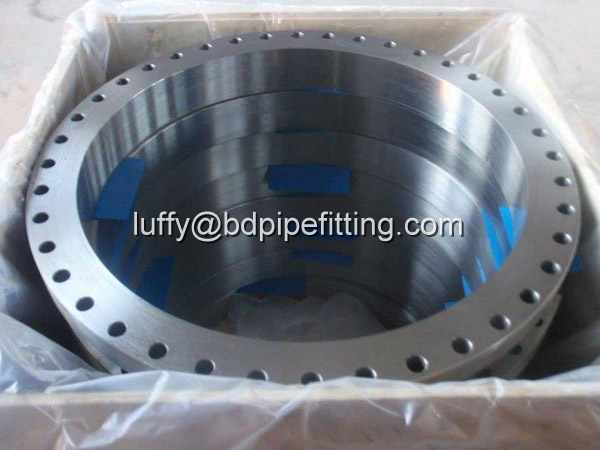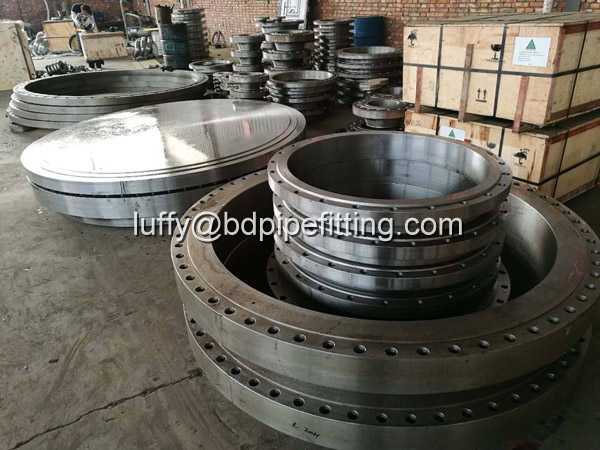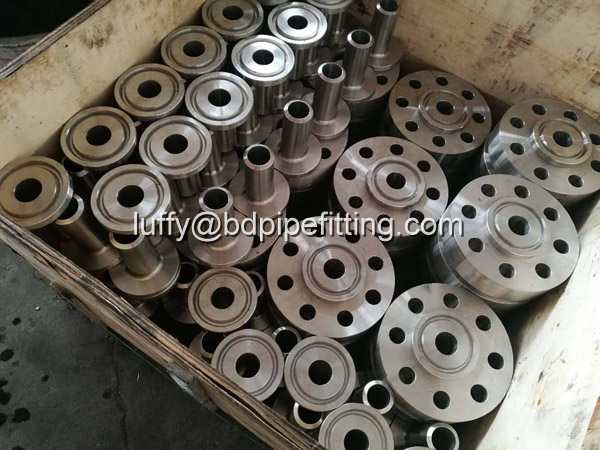 Ukuran: 1/2 ″ NB SAMPAI 24 ″ NB.
Kelas: 150 #, 300 #, 600 #, 900 #, 1500 # & 2500 #.

Jenis Flensa

PN, Plat Blank Flanges, Screwed Bars, Spectacle Blind, Lapped, Reducing, Welded Socketweld, SORF, Threaded, Weldneck, Slipon, Blind, Socket Weld, Lap Joint. Ring Joint. Oriface, Long Weldneck, Deck Flange, RTJ Flange

Kelas Material

Nikel & Tembaga Paduan, Baja Stainless & Duplex, Karbon, Baja Paduan, Baja Karbon / Suhu Hukum, Baja Paduan
Paduan Flensa Nikel Tinggi
Monel, Nikel, lnconel, Hastelloy, Tembaga, Kuningan, Perunggu, Titanium, Tantalum, Bismut, Aluminium, Baja Berkecepatan Tinggi, Seng, Timah, dll
Flensa Pipa Baja Stainless

ASTM A182 F304 / 304U 304H / 316/316/317/317/321/310/347 / 904L dll
Flensa Baja Karbon

ASTM A105 / A694 F42 / 46/52/56/60/65 70 / A350 LF3 / A350 LF2, dll.
Pipa Baja Paduan Flange

ASTM A182 F1 / F5 / F9 / F11 / F22 / F91 dll.

Kategori Produk : baja Flange > bergelang Outlet