ASTM A234 WPB Carbon Steel Pipe Bends
ASTM A234 WPB Carbon Steel Seamless Pipe Bend Produsen, WPB Carbon Steel Welded Pipe Bend, Baja Karbon A234 WPB Distributor Tekanan Tinggi Bending, Produsen ASTM A234 WPB Baja Karbon J Pipe Bend, Baja Karbon WPB U Pipe Bend Stockist, Pemasok A234 WPB Karbon Steel Pipe Bends, ANSI B16.9 Carbon WPB Hot Induction Bend di Cina.
Carbon Steel A234 WPB Pipe Bend, ASME SA234M Carbon WPB Disesuaikan Pipa Bend Grosir, Harga Terbaik dari WPB Carbon Steel Mitered Pipe Bend Eksportir, A234 Carbon Steel WPB 5D Pipe Bend Stokholder, Carbon Steel WPB 10D Pipe Bend, A234 WPB 45 Gelar Pipe Bend Pedagang di China.
Carbon Steel WPB Pipe Bend, ANSI B16.9, ANSI B16.28, MSS SP-43, atau MSS SP-75 WPB Pipe Bends, Carbon Steel A234 WPB Buttweld Bend, Stockist Carbon Steel WPB Long Radius Bend, Pemasok Baja Karbon WPB Hot Induksi Bend, Baja Karbon WPB Piggable Bend Dealer di Cina.

Bangdong Supply A234 WPB Alloy Steel Stub end, ASTM A234 WPB Alloy Steel Cap, ASTM A234 WPB Alloy Steel Reducer. Siku, Mulus Siku, Siku Baja, Baja Karbon Mulus Siku, siku 45 derajat, pipa siku. Kami adalah produsen ASTM A234 WPB Mengurangi TEE, ASTM A234 WPB Straight TEE dan menyediakan kualitas tinggi ASTM A234 Mengurangi TEE & ASTM A234 Straight TEE baik dalam jumlah besar dan kecil di seluruh dunia & menawarkan Anda harga terbaik di pasar.
Carbon Steel A234 WPB Pipe Bendsare kami sangat penting untuk kelangsungan hidup pipa-pipa yang membawa cairan media korosif, seperti belerang atau media asam lainnya. Kami menyediakan tikungan pipa tahan karat ini ke industri Kimia, Minyak dan Gas, yang terkenal karena kemasyhuran mereka sebagai pusat korosif. Kami adalah Pedagang dari Codos de acero al carbono ASTM A234 Carbon Steel WPB Hot Induction Bend adalah penentu dalam kasus di mana pipa membutuhkan perubahan arah, dengan tikungan tersedia pada 45 dan 90 derajat, dengan tikungan aneh 22,5 derajat juga tersedia sesuai permintaan, mereka memiliki properti instalasi yang mudah. Pipa kami menekuk produk yang berguna untuk menghilangkan sambungan piping tanpa stres dan menghindari aliran media yang tidak stabil dalam pipa pada layanan bersuhu rendah. A234 Carbon Steel Pipe Bend sangat disukai oleh industri tekstil dan pulp dan kertas, dengan cabang melengkung memungkinkan pembuangan limbah yang tepat dari pipa.

Bangdong adalah Produsen, Stockist & Supplier berbagai kualitas premium Carbon Steel A234 WPB Seamless Pipe Bends yang diproduksi di bawah bimbingan ahli tenaga kerja kami yang rajin. Kami adalah perusahaan yang sangat berpengalaman di Bend Induksi Pipa & tikungan pipa lainnya. Bend Induksi Pipa kami & produk tekuk pipa lainnya diproduksi menggunakan bahan berkualitas dan melalui pemeriksaan kualitas yang ketat di semua tahap produksi untuk memastikan kualitas. Dirancang sesuai dengan standar kualitas internasional, Bend Induksi Pipa ini tahan korosi, kokoh dan tahan lama. Kami juga menyediakan Pipa Induksi Bend & tekukan pipa lainnya seperti A234 WPB Carbon Steel Long Radius Bend, Carbon Steel WPB Piggable Bend, A234 WPB Hot Induction Bend, A234 WPB Carbon Steel Seamless Pipe Bend, A234 WPB Welded Pipe Bend, Carbon Steel WPB U Pipe Bend, WPB Carbon Steel J Pipe Bend, A234 WPB Mitered Pipe Bend, Carbon Steel WPB 3D Pipe Bend dalam ukuran disesuaikan ..

Spesifikasi Standar Untuk Carbon Steel ASTM A234 WPB Pipe Bends

Spesifikasi: ASTM A234 & ASME SA234

Dimensi: ASME / ANSI B16.9 / B16.28 dan MSS SP-43 / SP-75

Ukuran: Seamless Pipe Bends (1/2 ″ - 24 ″), ERW / Welded / Fabricated Pipe Bends (2 ″ - 36 ″)

Diameter Luar: 38,0 mm - 206,0 mm

Ketebalan dinding: 1,5 mm / 2,0 mm / 3,0 mm - ketebalan dinding yang lebih besar atas permintaan

Bend Radii: 75/100/150/250/300/500/800 / 1.000 / 1.200 / 1.500 mm

Radius Lentur (R): R = 1D, 2D, 3D, 5D, 6D, 8D, 10D atau Kustom

Sudut lengkung (θ): 15 °, 30 °, 45 °, 60 °, 90 °, 135 °, 180 °


arbon Steel A234 WPB Pipe Bends Standar Manufaktur:
| | |
| --- | --- |
| ASME Pipe Bend | ANSI B16.9, ANSI B16.28, MSS-SP-43 |
| DIN Pipe Bend | DIN2605, DIN2615, DIN2616, DIN2617, DIN28011 |
| EN Pipe Bend | EN10253-1, EN10253-2 |
| ASME B16.9 | Factory-Made Wrought Fittings Buttwelding |
| ASME B16.25 | Buttwelding Ends ASME B16.28 – Wrought Steel Short Radius Elbows and Buttwelding Returns |
| MSS SP-43 | Wrought and Fabricated Butt-Welding Fittings for Low Pressure, Corrosion Resistant Applications |
Sifat Mekanik Baja Karbon A234 WPB Pipe Bends
Komposisi kimia A234 WPB Carbon Steel Pipe Ben
kami adalah produsen paduan Baja Endongan. Alloy Steel Stub Ends diproduksi di semua ketebalan dinding standar. Item produksi normal diproduksi di ASA-A (Long Pattern) dalam ketebalan dinding Standar dan Ekstra Berat. MSS-A (Short Pattern) Stub Ends juga tersedia dalam Alloy Steel di semua ketebalan dinding. Baik ASA-A dan pola MSS-A digunakan dengan flensa sambungan putaran., Produsen akhir rintisan

Bahan: Baja Paduan: A 106 Grade B Seamless
Ukuran: 1/2 "hingga 24"
Jadwal: Semua Jadwal
ASTM A234 WPB Fittings End Prep:
-> Beveled Berakhir
-> Kuadrat Berakhir
-> Flanged Berakhir
-> Alur Victaulic
-> Threaded Ends (Male Only)
Panjang:
-> ASA-A Standard
-> MSS-A dan panjang khusus lainnya tersedia
Spesifikasi kelas:
-> Carbon Steel: ASTM / ASME A234 WPB / A860 - MSS-SP-75 WPHY 42/46/52/56/60/65/70
-> Baja Suhu Rendah: A420 WPL3 / ASTM A234 WPB
.
Standar: ANSI B16.9 / 16.28, ASTM A53 / A106, API 5L, ASME B36.10M-1996, DIN2605 / 2615/2616, JIS P2311 / 2312
Ketebalan: SGP, STD, SCH40, SCH80, SCH160. XS, XXS dan seterusnya.
Ukuran: 1/2 "–60"
Bahan: Baja karbon, baja paduan, baja tahan karat
Permukaan pengobatan: minyak transparan, minyak hitam karat-bukti atau panas galvanis, silang Seamless, Erw salib, pipa salib,
salib baja karbon
kata kunci: silang, silang mulus, Salib baja, Palang Seamless Baja Karbon, pipa silang
Spesifikasi kelas:
Baja Paduan: ASTM / ASME A234 WPB / A860 - MSS-SP-75 WPHY 42/46/52/56/60/65/70
Baja suhu rendah: A420 WPL3 / ASTM A234 WPB Pipe Fittings Manufacturers

ASTM A234 / A234M-10
W (Welded construction)

S (Seamless construction)

W (Welded construction)

S (Seamless construction)

W (Welded construction)

S (Seamless construction)

W (Welded construction)

S (Seamless construction)

WP12 CL1W

WP12 CL1

WP12 CL2W

WP12 CL2

W (Welded construction)

S (Seamless construction)

WP11 CL1W

WP11 CL1

WP11 CL2W

WP11 CL2

WP11 CL3W

WP11 CL3

W (Welded construction)

S (Seamless construction)

WP22 CL1W

WP22 CL1

WP22 CL3W

WP22 CL3

W (Welded construction)

S (Seamless construction)

WP5 CL1W

WP5 CL1

WP5 CL3W

WP5 CL3

W (Welded construction)

S (Seamless construction)

WP9 CL1W

WP9 CL1

WP9 CL3W

WP9 CL3

W (Welded construction)

S (Seamless construction)

W (Welded construction)

S (Seamless construction)
Persyaratan Suplemen
S1. Perlakuan Panas Alternatif - Grade WP91
S2. Konten Vanadium Terbatas
S3. Setara Karbon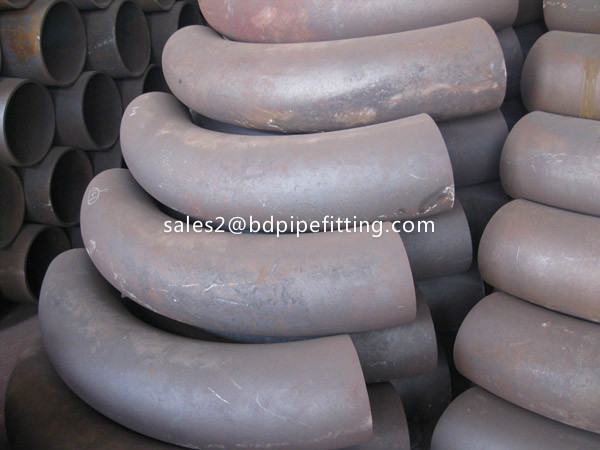 Kategori Produk : Butt Weld Pipe Fitting > Pipa Elbow / Bend